익숙한 KLA / TENCOR 6220 Surfscan 판매용
This KLA / TENCOR 6220 Surfscan has been sold.
Check our Similar Products below, use our
Search feature
to find more products available for sale or
contact us
with any questions you might have.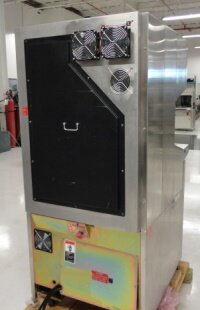 Sold
ID#: 181364
모델:
6220 Surfscan
포도 수확:
2001
장비 세부 정보:
Non-patterned Wafer Inspection System
Model No.: 519928
Compatible for 2", 3", 82mm, 4", 5", 6", 8"
Thickness: SEMI standard wafer thickness
Material: Any opaque, polished surface which scatters less than 5 percent of incident light
Smaller sizes factory-set at time of order
Defect Sensitivity: 0.09 micrometer diameter PSL sphere equivalent with greater than 80 percent capture rate
Haze/Sensitivity: 0.02 ppm minimum
Resolution: 0.002 ppm
Repeatability: Count repeatability error less than 0.5 percent at 1 standard deviation (Mean count greater than 500, 0.364mm dia. latex spheres)
Count Accuracy: Better than 99 percent (verified with VLSI Standards' Relative Standard)
Spatial Resolution: 50mm spacing, minimum
Dynamic Range: 0.07 micrometer to 9,999mm in a single measurement
Throughput: 100 wph (200mm) at 0.12mm
Contamination: Less than 0.005 particles/cm2 greater than 0.15 mm dia. per single pass
Cassette Handling: Single puck wafer handling from two cassettes (one sender/receiver, one receiver)
Illumination Source: 30 mW Argon-Ion laser, 488 nm wavelength
Operator Interface: Mouse and/or dedicated user keypad
Physical Characteristics/Height: 168 cm (66 in.)
Shipping Weight: 300 kg (670 lbs)
Installation Requirements/Vacuum: 508mm (20 in.) Hg.
Electrical: 200-240V, 50/60 Hz
Power Requirement: 2 kVA
Ducted Venting: Two 102mm (4 in.) exhaust hoses
Environment: Class 10 or better
2001 vintage.

[+] 더 많은 것을 읽으십시오
[-] 닫기